Getting started:
1. Log in using your email address or Facebook and select an easy password that you will remember. Seed will keep you logged in on your phone but if you forget your password and get logged out, don't worry as you can just use the 'Forgotten Password' button to reset it easily.
2. You will then be taken to the Home screen where you can choose to go into the Tracker, My Profile, Food & More, Lifestyle, Common Conditions or Trying to Conceive sections.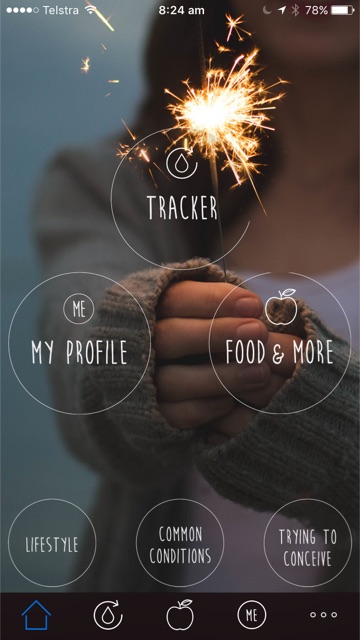 Setting up and using the Period Tracker:
1. Start by setting up your Tracker. If you know the start dates of your last 2-3 periods, back date them into the Tracker calendar by sliding the calendar to the right and selecting the correct date and press the red "+" symbol.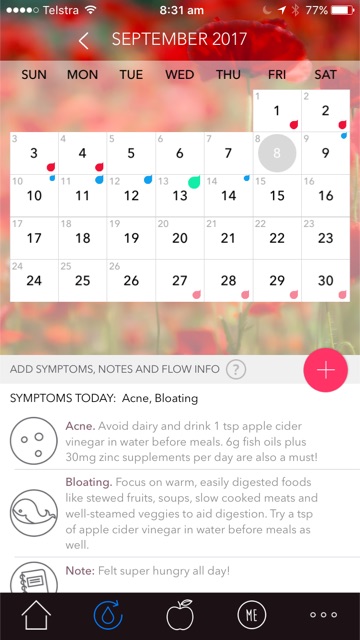 This will take you to the 'My Symptoms Today' page where you can select 'Period Started Today' in the top left corner. Be sure to press 'Done' when you are finished.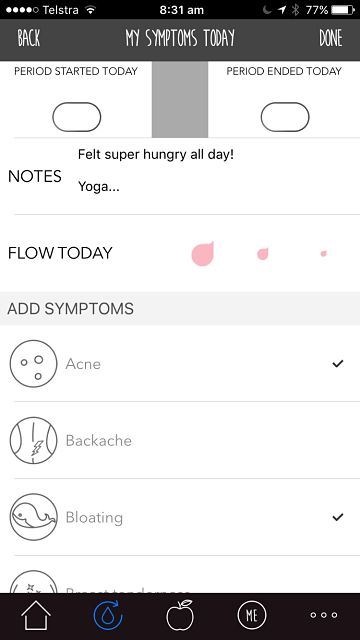 2. If you don't know your last few period start dates, the tracker will automatically assume you have a 28 day cycle. It will start to correct itself and adjust to your real cycle length after you have entered your first few period start dates.
3. Continue entering a period start date on day 1 (first day of bleeding) for every cycle. You will see light pink droplets to indicate when your next projected period is due.
4. The Tracker works by taking an average of your last three cycles and predicts your next period and fertile window according to that.
5. If you have a very irregular cycle, you might find that the cycle predictions are not quite right so head to the 'My Profile' page to take the 'Hormonal Health Quiz' for tips to regulate or head to http://theseedconcept.com/skype-consultations/ to make a Skype appointment with a Seed Naturopath.
6. Fertile window – you will see blue droplets on your tracker which indicate your estimated fertile days. This is the time to attempt conception if you are trying to conceive (or to be extra careful if you are not!). The day with the green droplet is your most likely ovulation date.
7. Be aware that the Seed ovulation and fertility predictions should not be used purely for contraceptive purposes as women can ovulate at any time. If you don't want to conceive, please also use a barrier contraceptive.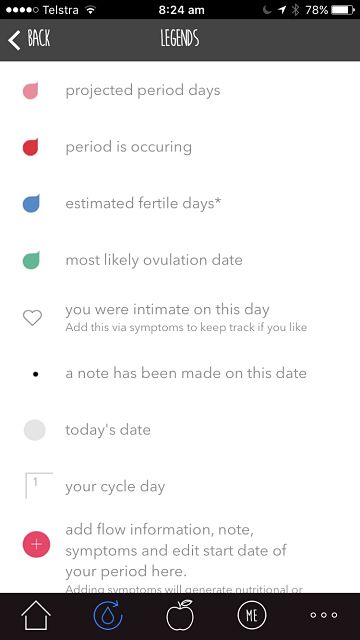 8. Refer to the legend to understand all the symbols used in Seed.
9. Personalise your tracker by adding symptoms via the red "+" sign on the Tracker. Adding symptoms will generate nutritional or lifestyle tips to help manage and alleviate your symptoms. Feel free to use the 'Notes' to add anything else that may be significant for you on a particular day. Be sure to click' Done" to save your information.
10. You can look back at your previous information by touching the days on the calendar.
11. If you are loving Seed – please head to the App Store and rate us!